Monthly Archives:
An expedition in the South Pacific lands on a tropical island where the natives worship the mysterious deity Gappa. An earthquake opens up an underground cavern and a baby reptile is discovered inside. The natives warn the foreigners to leave the hatching alone, but they don't listen and take it back to a zoo in Japan. Soon after, moma and papa Gappa start smashing Tokyo looking for their kidnapped child.
The real life story of actress Pearl White during her rise to fame in silent serials. Stars Betty Hutton, John Lund, Billy DeWolfe.
Funloving Pearl White, working in a garment sweatshop, gets her big chance when she "opens" for a delayed Shakespeare play…with a comic vaudeville performance. Her brief stage career leads her into those "horrible" moving pictures, where she comes to love the chaotic world of silent movies, becoming queen of the serials. But the consequences of movie stardom may be more than her leading man can take
Young girl is constantly getting into trouble and embarrassing her father who finally puts his foot down. Stars Lois Butler, Bill Goodwin, Irene Harvey.
U.S. Treasury Department agents go after a ring of counterfeiters. Stars: Lloyd Bridges,Barbara Payton,John Hoyt,James Todd.
This is not a story about a farm-boy raising a horse to be a champion. It is about a happy-go-lucky young man from Indiana, Lon Decker, who has aspirations of becoming a sportswriter. During his wanderings around the middle-and-southwest sections of the U.S. he meets a shrewd old man, "Mac" Dougal, who has more than a touch of larceny in him, and likes to ensure his bets on Quarter-Horse races by doping a horse or two here and there. He leaves a lot of race tracks in a hurry. The old man also owns a quarter-horse (horses bred to run in quarter-mile races only), who appears to have seen better days. But 'Jo'Jo" the horse is a champion racer, although his owner prefers not to let that be known, especially when setting up a race with an established thoroughbred, for big money. He intends to relieve rancher Zelda Bagley of some of her money in just such a race. But "Jo-Jo' gets gored by a bull. Will 'Jo-Jo" recover in time for the Big Race?
In the depths of the Depression, a party game brings dizzy socialite Irene Bullock to the city dump where she meets Godfrey, a derelict, and ends by hiring him as family butler. He finds the Bullocks to be the epitome of idle rich, and nutty as the proverbial fruitcake. Soon, the dramatizing Irene is in love with her 'protege'…who feels strongly that a romance between servant and employer is out of place, regardless of that servant's mysterious past…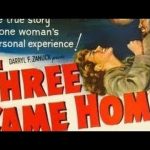 The true story of Agnes Newton Keith's imprisonment in several Japanese prisoner-of-war camps from 1941 to the end of WWII. Separated from her husband and with a young son to care for she has many difficulties to face.
This documentary, which was undertaken soon after James Dean's death, looks at Dean's life through the use of still photographs with narration, and interviews with many of the people involved in his short life. Interviewees include the aunt and uncle who raised him after his mother's death (when James was 9), his fraternal grandparents, a cabdriver friend in New York City, and the owner of his favorite restaurant in Los Angeles. James's father, who was alive when the film was made, does not get a single mention.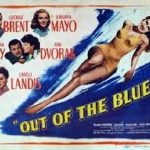 Set in an apartment building whose occupants include Arthur Earthleigh, a meek and mild type married to the beautiful-but-domineering Mae; a Bohemian artist, David Galleo and his always-there model, Deborah Tyler; and Olive Jensen, a Greenwich Village type who is always slightly-but-continuously inebriated, and whose motto is "love and let love." She calls on George while his wife is out, and when she passes out during his attempts to get her out before his wife returns, he thinks she is dead and deposits her on Galleo's terrace. Galleo takes advantage of the situation by using it in a blackmail scheme against Arthur, which is shaky, at best, as Olive refuses to stay dead.
United States Treasury agents O'Brien and Genaro infiltrate a counterfeiting ring which has some dangerously good paper. This is supposedly based on several actual Treasury cases.