Monthly Archives:
Motor mechanic Dan Brady lacks funds for a heavy date with new waitress Vera, the type whose life's ambition is a fur coat; so he embezzles twenty dollars from his employer. To make up the shortage, he goes in debt for a hundred. Thereafter, every means he tries to get out of trouble only gets him deeper into crime, while everyone he meets is out for what they can get.
In San Francisco, the successful self-made businessman Walter Williams has just bought three factories in Denver with the approval of the board of directors. His beloved wife Irene tells him that she is not feeling well enough to travel with him, and asks Walter to give a lift to her cousin Jim Torrance. On the highway, Jim, who is actually Irene's lover, tries to kill Walter hitting his head and throwing him off a cliff, and has a fatal fiery accident while escaping driving Walter's car. Walter is believed to be the driver and later his wife is sent to jail accused of plotting his murder. Meanwhile, the wounded Walter falls asleep in a moving van and eventually winds up in Larkspur, a small town in Idaho. He is hired as a mechanic in a gas station by the owner, Marsha Peters. For three months, Walter reads the news, expecting revenge with Irene sentenced to death, and he and Marsha fall in love for each other. When Walter discloses the truth to Marsha, she convinces him to return to ..
King Louis XIII of France is thrilled to have born to him a son – an heir to the throne. But when the queen delivers a twin, Cardinal Richelieu sees the second son as a potential for revolution, and has him sent off to Spain to be raised in secret to ensure a peaceful future for France. Alas, keeping the secret means sending Constance, lover of D'Artagnan, off to a convent. D'Artagnan hears of this and rallies the Musketeers in a bid to rescue her. Unfortunately, Richelieu out-smarts the Musketeers and banishes them forever. Richelieu enlists D'Artagnan to look after and protect the young prince. Meanwhile, de Rochefort learns of the twins and Richelieu's plans, and kidnaps the twin, raising him in secret. Many years later, with Richelieu dead and the young prince crowned King Louis XIV, Rochefort launches his plan. The king is kidnapped, replaced with his twin, put in an iron mask so as not to be recognized, and led off to a remote castle to be held prisoner.
Yachtsman Steve Drexel bets his friends that he can swim ashore on a remote south-seas island with nothing but a toothbrush and be 'living the life of Riley' when they return. With handmade implements the lighthearted, athletic Steve improbably builds a comfortable home with all amenities…and local fauna trained to help him! Meanwhile, a grass-skirted young lady flees an unwelcome wedding on a nearby island. Steve calls her Saturday, but what is he to do with her?
On the eve of his wedding Captain Hugh Drummond is off to Morocco when Scotland Yard's Colonel J.A. Nielson is kidnapped by international criminal Richard Lane. With his fiancée Phyllis Clavering, friend 'Algy' Longworth and his trusty valet 'Tenny' Tennyson, Bulldog flies his own plane 1200 miles only to find the local British Consul ordering him home without delay. Drummond isn't an easy man to get rid of however and they soon mount their rescue plan.
A young cowboy searches for the killer of his twin brother.
Director: Edward L. Cahn Writers: Charles B. Griffith (story), Mark Hanna (story) Stars: John Agar, Marla English, Mike Connors.
A precode romantic melodrama about a burlesque dancer and a country boy who must pretend to be married.
Tom Durling is falsely accused of a bank robbery and murder. In order to clear his name, and that of the brother of his fiancée who was killed in the course of the robbery by the robbers, he flees. With the aid of his fiancée, June Reynolds, he sets out to find the needed evidence to convict the actual criminals.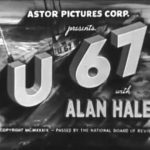 (aka U67) The Sea Ghost is a 1931 American Pre-Code film directed by William Nigh and starring Alan Hale, Clarence Wilson, Claud Allister and Laura La Plante. The film was re-titled U 67 for its American reissue, stating in the foreword that "some of the scenes in this film show authentic exploits of the U 67 under actual wartime conditions".
Greg Winters, a disgraced World War 1 naval officer, is the Captain of a salvage-ship in New Orleans in 1925. He crosses paths with Evelyn Inchcape, a man-hating owner of a cabaret and the heir to a fortune, and Karl Ludwig, a former German submarine commander, searching for salvation on the docks of New Orleans.
Pat and Max are in love and share an intimate relationship. However, after Max receives his surgeon's diploma, his parents have arranged a marriage for him with a woman from a rich, good background.