Monthly Archives:
Gangster Dixie Logan is framed by crooked DA Lawrence Dale. His wife secures a job as Dale's assistant, the better to find the proof of the DA's dishonesty. She gets help from Reporter Mitchell, who falls in love with her.
A group of teen-agers vacationing in the tropics take a boat out to a seemingly deserted island. They soon find, however, that the island is inhabited by a wealthy recluse and his staff. While their host is initially hospitable, he quickly reveals his true purpose: to hunt down and kill each of his visitors, as he has done with everyone unlucky enough to set foot on his island. Directed by Ralph Brooke Produced by Robert H. Bagley, Ralph Brooke Written by Richard Connell, Ralph Brooke Starring Wilton Graff, Robert Reed, June Kenney, Gene Persson
Lamont Cranston assumes his secret identity as "The Shadow", to break up an attempted robbery at an attorney's office. When the police search the scene, Cranston must assume the identity of the attorney. Before he can leave, a phone call summons the attorney to the home of Delthern, a wealthy client, who wants a new will drawn up. As Cranston meets with him, Delthern is suddenly shot, and Cranston is quickly caught up in a new mystery. Directed by Lynn Shores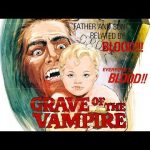 Kroft, a legendary vampire, returns from sleep. Kroft attacks a couple in a graveyard, raping the woman. The child born feeds only on blood from his mother's breast.