Monthly Archives:
Atterbury Dodd is an efficiency expert who believes everything can be reduced to mathematics. He is sent to Hollywood to see whether Colossal Pictures is a good investment. He soon learns that movie production doesn't fit his formulaic mindset.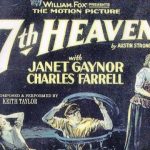 In Paris, in the early years of the twentieth century, lives Chico, a sewer worker with lofty aspirations. One night, Chico saves a young prostitute named Diane from the murderous rage of her tyrannical sister. Despite her lifestyle, Diane is honest and innocent, and when the police arrive to arrest her, Chico spontaneously claims that she is his wife. Forced to maintain this facade or else both face prison sentences, Chico reluctantly allows Diane to live with him — and in the process, love gradually blossoms between them. However, the dark spectre of World War I has begun to descend upon France, and Chico and Diane cannot help but fall under its shadow.
Dave Harmon is a United States Marshall, who has been sent by the governor to the territory of Yuma. It seems that the law is not welcomed there; every Marshall that's been sent has been chased out. But Harmon is a different story, upon arriving, he encounters two drunks and asks them to come with him to cool off, one of them pulls a gun on him and shoots, Harmon with no other choice shoots him. He is told that the man he killed is the brother of Arch King, a powerful man, who adheres to only one law, his. Later that evening someone breaks into the jail and lets the other man out and shoots him with Harmon's gun. It seems that the other man is also King's brother. Most people think that Harmon shot him but a Mexican boy whom Harmon allowed to sleep on the floor of the jail said that it was two men and that one of them's a soldier. Harmon is then visited by King and is told that unless he can prove that he was not the one who killed his brother, King will be back and will deal with him…
During the Texas War of Independence of 1836 American frontiersman and pioneer Jim Bowie pleads for caution with the rebellious Texicans. They don't heed his advice since he's a Mexican citizen,married to the daughter of the Mexican vice-governor of the province and a friend to General Santa Anna since the days they had fought together for Mexico's independence.After serving as president for 22 years,Santa Anna has become too powerful and arrogant.He rules Mexico with an iron fist and he would not allow Texas to self-govern.Bowie sides with the Texans in their bid for independence and urges a cautious strategy,given Santa Anna's power and cunning.Despite the disagreement between the Texicans and Bowie regarding the right strategy they ask Bowie to lead them in a last ditch stand, at Alamo, against General Santa Anna's numerically superior forces.
Insurance salesman Albert Tuttle arrives at the Cyrus J. Rutherford estate to sell the millionaire some life insurance. Rutherford is already dead and his heirs have gathered at the mansion to hear the reading of the will. Rutherford's will won't be read until he is properly entombed and the heirs are forced to stay on the premises or be denied their inheritance. Tuttle soon finds himself mixed up in shenanigans involving Rutherford's niece, secret passages, a missing body and murder.
Glimpy's surprisingly beautiful sister is getting married to Jack, a young engineer, and moving to a 'bargain' suburban house neither has ever seen. During the honeymoon, the East Side Kids decide to fix up the house for the newlyweds…but mistakenly pick the 'haunted' house next door, which is occupied by some mysterious live men, dodging in and out of secret panels and clearly up to no good..
Biff Jones is a driver/salesman for the Good Humor ice-cream company. He hopes to marry his girl Margie, who works as a secretary for Stuart Nagel, an insurance investigator. Margie won't marry Biff, though, because she is the sole support of her kid brother, Johnny. Biff gets involved with Bonnie, a young woman he tries to rescue from gangsters. But Biff's attempts to help her only get him accused of murder. When the police refuse to believe his story, it's up to Biff and Johnny to prove Biff's innocence and solve the crime.
In late nineteenth century New York a Wall Street broker likes to think his house runs his way, but finds himself constantly bemused at how much of what happens is down to his wife. His children are also stretching their wings, discovering girls and making money out of patent medicine selling. When it comes to light he has never been baptized and everyone starts insisting he must do so, it all starts to get a bit too much.
A young woman discovers she is the daughter of the infamous Dr. Jekyll, and begins to believe that she may also have a split personality, one of whom is a ruthless killer.