Monthly Archives:
Italian: Vado… l'ammazzo e torno  (1967) Spaghetti western starring Gilbert Roland, Edd Byrnes and George Hilton. A gang robs a gold shipment from a train. A so called bounty hunter is sent to track down the robbers and decides to let them lead him to the gold.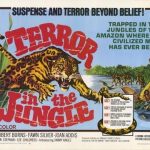 Starring: Robert Burns, Jimmy Angle Jr., Joan Addis
Little boy Henry Clayton Jr. survives a plane crash in the untamed Amazon jungle. However, he's discovered by a tribe of vicious savages who plan on sacrificing him. Meanwhile, Henry's father ventures into the jungle to find the missing lad before it's too late.
Doctor Blood's Coffin is a 1961 British horror film produced by George Fowler, and directed by Sidney J. Furie. It stars Kieron Moore, Hazel Court and Ian Hunter. People are mysteriously disappearing near a remote Cornish village, where a scientist is experimenting with reviving the dead.
A merchant marine seaman is found murdered and suspicion falls upon the operator of a dime-a-dance honky tonk joint. A federal undercover agent is planted in the place to gather evidence, and he soon learns that the dive is only a cover-up for diamond-smuggling activities, and that one of the operation's henchmen, who is handy with a switch-blade knife, is the killer. Before they can be arrested, the henchman kills his boss and is shot while trying to escape.
The Violent Years is a Crime Drama written by Ed Wood. Story: A newspaper publisher's daughter suffers from neglect by her parents. She and her friends turn to crime by dressing up like men, holding up gas stations, raping young men at gunpoint, and having makeout parties when her parents are away. Their "fence" gets them to trash the school on request of sinister un-American clients, and they run afoul of the law, apple pie, and God himself.
While a distinguished astronomer is giving a lecture in a planetarium, a shot rings out and one of the audience members is found dead. A tough detective and a brassy female reporter lock horns as they both try to break the case.