Adventure
In 54 B.C. Julius Caesar seeks to solidify his position in Rome by putting down a rebellion in Gaul led by a tribal chieftain named Vercingetorix. Vercingetorix has rallied many tribes to his cause, including one led by the beautiful Queen Asterix and others who'd once pledged allegiance to Rome. At first things go badly for the Romans, complicated by the fact that Vercingetorix has captured and tortured a centurion named Claudius Valerius who's in love with Caesar's ward, Publia, who has also fallen into the hands of Vercingetorix. Eventually a great battle pitting Caesar against the rebellious Gaul decides the fate of all concerned.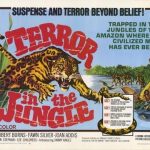 Starring: Robert Burns, Jimmy Angle Jr., Joan Addis
Little boy Henry Clayton Jr. survives a plane crash in the untamed Amazon jungle. However, he's discovered by a tribe of vicious savages who plan on sacrificing him. Meanwhile, Henry's father ventures into the jungle to find the missing lad before it's too late.
Although young and beautiful, schoolteacher Anne Gladden fears a dull future. She finally decides to take a walk on the wild side, splurging on some fashionable new clothes and setting off to find adventure. Her new confidence inspires her to flirt with complete strangers. When a gangster pays unwanted attention to her, she ditches him and flees in his car, unaware that there's a corpse in the trunk. Determined to recover his stolen vehicle and its incriminating cargo the thug begins a desperate search. The oblivious Anne, comes to the aid of a handsome young man stranded alongside the road. Romance blooms, but after the shocking discovery of a body in the trunk, the duo decide they have to return the car. The bickering lovebirds head back to the city, trailed by both the angry gangster and the cops, who suspect the young couple of murder.
A nurse is taking an amnesia victim, who was imprisoned by the Japanese during WW II, to the United States in a plane piloted by Richard Denning. The passengers include a Japanese colonel on his way to Manila to face war-crime charges, and a couple who were married on the day they were liberated from a Japanese prison camp. During the flight, the colonel breaks away from his guards, causes the plane to go out of control, and it crashes into the sea. The survivors get into a rubber boat and go through a minor-league version of "Lifeboat, with no Alfred Hitchcock sightings, until Air-Sea Rescue pilot Jim Willis rides to the rescue.
The Big Cat is a 1949 Action Adventure American Outdoor film in Technicolor directed by Phil Karlson. The cast included Lon McCallister and  Peggy Ann Garner. A city boy arrives in his late mother's birthplace to discover the locals have been pestered by drought, old fights and a cougar. He turns out to be pivotal in all of these.
A TV adaptation of the classic Alexandre Dumas novel. Edmond Dantes is falsely accused by those jealous of his good fortune, and is sentenced to spend the rest of his life in the notorious island prison, Chateau d'If. While imprisoned, he meets the Abbe Faria, a fellow prisoner whom everyone believes to be mad. The Abbe tells Edmond of a fantastic treasure hidden away on a tiny island, that only he knows the location of. After many years in prison, the old Abbe dies, and Edmond escapes disguised as the dead body. Now free, Edmond must find the treasure the Abbe told him of, so he can use the new-found wealth to exact revenge on those who have wronged him.
King Louis XIII of France is thrilled to have born to him a son – an heir to the throne. But when the queen delivers a twin, Cardinal Richelieu sees the second son as a potential for revolution, and has him sent off to Spain to be raised in secret to ensure a peaceful future for France. Alas, keeping the secret means sending Constance, lover of D'Artagnan, off to a convent. D'Artagnan hears of this and rallies the Musketeers in a bid to rescue her. Unfortunately, Richelieu out-smarts the Musketeers and banishes them forever. Richelieu enlists D'Artagnan to look after and protect the young prince. Meanwhile, de Rochefort learns of the twins and Richelieu's plans, and kidnaps the twin, raising him in secret. Many years later, with Richelieu dead and the young prince crowned King Louis XIV, Rochefort launches his plan. The king is kidnapped, replaced with his twin, put in an iron mask so as not to be recognized, and led off to a remote castle to be held prisoner.
Yachtsman Steve Drexel bets his friends that he can swim ashore on a remote south-seas island with nothing but a toothbrush and be 'living the life of Riley' when they return. With handmade implements the lighthearted, athletic Steve improbably builds a comfortable home with all amenities…and local fauna trained to help him! Meanwhile, a grass-skirted young lady flees an unwelcome wedding on a nearby island. Steve calls her Saturday, but what is he to do with her?
On the eve of his wedding Captain Hugh Drummond is off to Morocco when Scotland Yard's Colonel J.A. Nielson is kidnapped by international criminal Richard Lane. With his fiancée Phyllis Clavering, friend 'Algy' Longworth and his trusty valet 'Tenny' Tennyson, Bulldog flies his own plane 1200 miles only to find the local British Consul ordering him home without delay. Drummond isn't an easy man to get rid of however and they soon mount their rescue plan.
In the territory of his holiness the Turkish pirates terrorize the population. Marco Trevisan during the trip from Venice to his city is captured by the men of Rabenek.