Comedy
Atterbury Dodd is an efficiency expert who believes everything can be reduced to mathematics. He is sent to Hollywood to see whether Colossal Pictures is a good investment. He soon learns that movie production doesn't fit his formulaic mindset.
Insurance salesman Albert Tuttle arrives at the Cyrus J. Rutherford estate to sell the millionaire some life insurance. Rutherford is already dead and his heirs have gathered at the mansion to hear the reading of the will. Rutherford's will won't be read until he is properly entombed and the heirs are forced to stay on the premises or be denied their inheritance. Tuttle soon finds himself mixed up in shenanigans involving Rutherford's niece, secret passages, a missing body and murder.
Glimpy's surprisingly beautiful sister is getting married to Jack, a young engineer, and moving to a 'bargain' suburban house neither has ever seen. During the honeymoon, the East Side Kids decide to fix up the house for the newlyweds…but mistakenly pick the 'haunted' house next door, which is occupied by some mysterious live men, dodging in and out of secret panels and clearly up to no good..
Biff Jones is a driver/salesman for the Good Humor ice-cream company. He hopes to marry his girl Margie, who works as a secretary for Stuart Nagel, an insurance investigator. Margie won't marry Biff, though, because she is the sole support of her kid brother, Johnny. Biff gets involved with Bonnie, a young woman he tries to rescue from gangsters. But Biff's attempts to help her only get him accused of murder. When the police refuse to believe his story, it's up to Biff and Johnny to prove Biff's innocence and solve the crime.
In late nineteenth century New York a Wall Street broker likes to think his house runs his way, but finds himself constantly bemused at how much of what happens is down to his wife. His children are also stretching their wings, discovering girls and making money out of patent medicine selling. When it comes to light he has never been baptized and everyone starts insisting he must do so, it all starts to get a bit too much.
(aka A Christmas Wish) is a heartwarming holiday classic about a New York family (led by Durante) who is down on their luck at Christmas time. Shortly before Christmas, they move into a ground floor apartment where Rupert the squirrel lives in the attic rafters. Just when it seems that the holiday will come and go without so much as a Christmas tree, Rupert acts as the family's guardian angel, not only saving Christmas, but changing their lives forever. The film is enlivened with the warmth and sweetness of an unforgettable love story between Terry Moore (of Mighty Joe Young) and Tom Drake (of Meet Me in St. Louis). Rupert the Squirrel (created using George Pal's Academy Award winning animation technique) will charm young and old alike. Jimmy Durante shines when he sings Jingle Bells and other well-loved Christmas carols in the evocative voice that made him one of America's recording legends.
Door-to-door salesman Johnny Dill, the exact double of a notorious gangster, finds himself struck between the forces of good and evil.
It's 1938, but Stan doesn't know the war is over; he's still patrolling the trenches in France, and shoots down a French aviator. Oliver sees his old chum's picture in the paper and goes to visit Stan at the Soldier's Home. Thinking Stan is disabled (it's just that he's sitting on his leg), Oliver takes pity on him and takes him home for a nice home-cooked meal. But Oliver's wife has other ideas and leaves him to fend for himself. After blowing up the kitchen, Oliver is helped by his next-door neighbor, Mrs. Gilbert… until the big-game hunting Mr. Gilbert comes home unexpectedly, carrying a shotgun.
Young girl is constantly getting into trouble and embarrassing her father who finally puts his foot down. Stars Lois Butler, Bill Goodwin, Irene Harvey.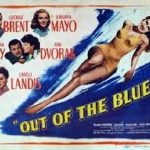 Set in an apartment building whose occupants include Arthur Earthleigh, a meek and mild type married to the beautiful-but-domineering Mae; a Bohemian artist, David Galleo and his always-there model, Deborah Tyler; and Olive Jensen, a Greenwich Village type who is always slightly-but-continuously inebriated, and whose motto is "love and let love." She calls on George while his wife is out, and when she passes out during his attempts to get her out before his wife returns, he thinks she is dead and deposits her on Galleo's terrace. Galleo takes advantage of the situation by using it in a blackmail scheme against Arthur, which is shaky, at best, as Olive refuses to stay dead.