Crime
In post-world-war II Germany, Dutchman Simon Van Halder is accused of killing a British soldier. Although he confessed to the murder in order to obtain penicillin for his illness, Simon is innocent. During the final days of the war, Simon and three other men tried to steal penicillin, from a British Army outpost, for sale on the black market. During the robbery, a British guard got killed. Simon was captured and he initially refused to incriminate himself. However, Simon's accomplices told him that his girlfriend, Anna DeBurg, died. With nothing to lose, Simon agreed to falsely-confess to the murder of the British soldier in order to save the others and also to receive antibiotics for his illness. The military authorities convict him and sentence him to life in prison. During his transport by train to a central prison, Simon tries to escape. His escape fails and he ends up in the prison hospital where he recovers from his illness. While convalescing, a bewildered Simon is shocked to
Director: Victor Halperin
Stars: Robert Wilcox, Beverly Roberts, Paul McVey
Ernie Matthews, who operates the prison electric chair, is having a crisis of conscience about his role as state executioner. His unrequited love for Joan Wright, another prison employee, adds to his depression. She in turn loves Johnny Martin, the warden's chauffeur and a trustee eligible shortly for parole. When the despondent Matthews goes to a local road house after an execution to get drunk, he's taunted by a sadistic reporter, and a brawl results. Because Johnny came to Matthews' aid in the fight, the parole board, pressured by the press, turns down his expected release, and Johnny reacts bitterly, forcing the warden to rescind his privileges. When Johnny's mentally challenged cell mate Big Billy strangles a sadistic warder, it is only Johnny's intervention that keeps a second guard from being killed. Another vindictive convict, Gus Barth, the only living witness to Johnny's heroism, spitefully hides the truth, hoping that Johnny goes to the electric chair.
A gang of teenage delinquents terrorize a small community by stealing cars and stripping them for parts, then selling the parts to a crooked junkyard owner. The police and an insurance company investigator set out to break up the gang. …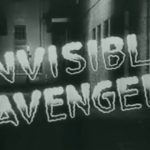 Pablo Ramirez is an expatriate from the Caribbean nation of Santa Cruz that is under control of a military dictator called the Generalissimo. From New Orleans, Ramirez plots a revolution and his return to Santa Cruz. To assist in this and to protect him from the Santa Cruz secret police who are in New Orleans he seeks the help of Lamont Cranston through a mutual friend, jazz trumpeter Tony Alcade. In the midst of a telephone call to Cranston Tony is murdered by the secret police. Cranston and his metaphysical mentor Jogendra come to New Orleans to bring Tony's murderers to justice and freedom to Santa Cruz.
Gangster Dixie Logan is framed by crooked DA Lawrence Dale. His wife secures a job as Dale's assistant, the better to find the proof of the DA's dishonesty. She gets help from Reporter Mitchell, who falls in love with her.
A prosecutor trying a case where a husband shot his adulterous wife begins to suspect that his own wife is having an affair, and starts to have his own thoughts about killing her.
A lawyer wins an acquittal for his client, a woman accused of murder. After the verdict, he finds out that she indeed did commit the murder and manipulated him to win her acquittal. Guilt-ridden, and knowing that she can't be tried again for the murder, he devises a plan to bring her to justice…..
One night on a lonely highway, a speeding car tosses a satchel of money, meant for somebody else, into Jane and Alan Palmer's back seat. Alan wants to turn it over to the police, but Jane, with luxury within her reach, persuades him to hang onto it "for a while." Soon, the Palmers are traced by one Danny Fuller, a sleazy character who claims the money is his. To hang onto it, Jane will need all the qualities of an ultimate femme fatale…and does she ever have them!
Frankie Machine is a skilled card dealer and one-time heroin addict. When he returns home from jail, he struggles to find a new livelihood and to avoid slipping back into addiction.