Romance
A New York bank clerk, Mollie Truesdale (Jean Arthur), in the late 1930s, finds that her cherished dream of making a 17-day all-expenses-paid bus trip to the Pacific Coast and back, isn't all she thought it would be…until she reaches Oregon and a bucking broncho tosses a rodeo performer on top of her and knocks her flat. Duke Hudkins (John Wayne), by way of apology, shows her the sights of Fairfield, Oregon, and she misses her bus, quarrels with the bewildered Duke, hitchhikes across a lot of desert…and a romance is born.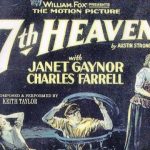 In Paris, in the early years of the twentieth century, lives Chico, a sewer worker with lofty aspirations. One night, Chico saves a young prostitute named Diane from the murderous rage of her tyrannical sister. Despite her lifestyle, Diane is honest and innocent, and when the police arrive to arrest her, Chico spontaneously claims that she is his wife. Forced to maintain this facade or else both face prison sentences, Chico reluctantly allows Diane to live with him — and in the process, love gradually blossoms between them. However, the dark spectre of World War I has begun to descend upon France, and Chico and Diane cannot help but fall under its shadow.
The snobbish & intellectual Professor of languages, Henry Higgins makes a bet with his friend that he can take a London flower seller, Eliza Doolittle, from the gutters and pass her off as a society lady. However he discovers that this involves dealing with a human being with ideas of her own.
A precode romantic melodrama about a burlesque dancer and a country boy who must pretend to be married.
Pat and Max are in love and share an intimate relationship. However, after Max receives his surgeon's diploma, his parents have arranged a marriage for him with a woman from a rich, good background.
In the depths of the Depression, a party game brings dizzy socialite Irene Bullock to the city dump where she meets Godfrey, a derelict, and ends by hiring him as family butler. He finds the Bullocks to be the epitome of idle rich, and nutty as the proverbial fruitcake. Soon, the dramatizing Irene is in love with her 'protege'…who feels strongly that a romance between servant and employer is out of place, regardless of that servant's mysterious past…
Trainer Pop Hardy thinks his heavyweight boxer 'King' Cole could be champ…some day; he wants to sell a half interest in Cole to his rich friend Wayne. Wayne's daughter Eleanor is disdainful, but brash Cole manages to get under her skin. Can a society dame and a mug find happiness together? And can she wait for his slow rise to fame?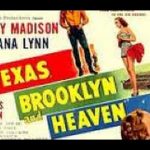 Eddie Tayloe's grandfather leaves him six thousand dollars and the money belt it came in, freeing Tayloe to leave his dull newspaper job in Texas and move to New York to become a playwright. Along the way, his car breaks down and a girl walking along the highway asks for a lift. It turns out she's a nice girl, named Perry, running away from a job at a gasoline station. Soon they're off to New York together, but part ways once they arrive. Time passes and Eddie is failing to sell his play; Perry is failing to find a job. Odd circumstances, involving an old pickpocket named Mandy, bring them together again. Three starchy sisters renting a room, a bartender named Mike, and a sleepy old immigrant running a mechanical menagerie all play parts in this romantic comedy.
A pretty young circus trapeze artist is pushed by her domineering aunt to be the best aerialist in the world. When she begins to fall for one of the two men in her act, her mother determines to break up the romance. So does the other trapeze artist, who is also in love with her.
Stars: Eva Gabor,Paul Valentine, Malcolm Lee Beggs Director: Bud Pollard Writers: John E. Gordon (story), Daniel Kusell (screenplay) US-Navy pilot Lt. Richard Tabor crash-lands on a south Pacific isle called Love Island in English. Richard befriends the Balinese beauty Sarna. The bad and jealous Jaraka doesn't like their friendship, so he has Sarna's father Aryuna arrested on a vague charge. Jaraka tells Aryuna that he only will be released when his daughter marries him.