War
During the Texas War of Independence of 1836 American frontiersman and pioneer Jim Bowie pleads for caution with the rebellious Texicans. They don't heed his advice since he's a Mexican citizen,married to the daughter of the Mexican vice-governor of the province and a friend to General Santa Anna since the days they had fought together for Mexico's independence.After serving as president for 22 years,Santa Anna has become too powerful and arrogant.He rules Mexico with an iron fist and he would not allow Texas to self-govern.Bowie sides with the Texans in their bid for independence and urges a cautious strategy,given Santa Anna's power and cunning.Despite the disagreement between the Texicans and Bowie regarding the right strategy they ask Bowie to lead them in a last ditch stand, at Alamo, against General Santa Anna's numerically superior forces.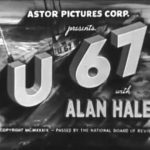 (aka U67) The Sea Ghost is a 1931 American Pre-Code film directed by William Nigh and starring Alan Hale, Clarence Wilson, Claud Allister and Laura La Plante. The film was re-titled U 67 for its American reissue, stating in the foreword that "some of the scenes in this film show authentic exploits of the U 67 under actual wartime conditions".
Greg Winters, a disgraced World War 1 naval officer, is the Captain of a salvage-ship in New Orleans in 1925. He crosses paths with Evelyn Inchcape, a man-hating owner of a cabaret and the heir to a fortune, and Karl Ludwig, a former German submarine commander, searching for salvation on the docks of New Orleans.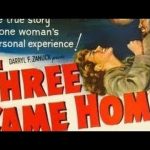 The true story of Agnes Newton Keith's imprisonment in several Japanese prisoner-of-war camps from 1941 to the end of WWII. Separated from her husband and with a young son to care for she has many difficulties to face.
Go for Broke! is a 1951 war film directed by Robert Pirosh and produced by Dore Schary. A tribute to the U.S. 442nd Regimental Combat Team, formed in 1943 by Presidential permission with Japanese-American volunteers. We follow the training of a platoon under the rueful command of Lt. Mike Grayson who shares common prejudices of the time. The 442nd serve in Italy, then France, distinguishing themselves in skirmishes and battles; gradually and naturally, Grayson's prejudices evaporate with dawning realization that his men are better soldiers than he is. Not preachy.
The Commanding Officer of an RAF Training School must deal with a difficult cadet, but the cadet reminds the C.O. of himself when young.
Nazi spies use a stolen shortwave transmitter prototype to broadcast top secret shipping info to an offshore Japanese sub. To nab the spy ring, the Government has the West Coast's top radio engineers fired and shadowed to see if the Nazis recruit them to complete work on the prototype radio. Radio engineer Lew Deerhold, a resident alien without a job to pay for his adorable little ward Gina's life-saving operation, falls prey to the spy ring, and is swept up in a maelstrom of deceit and danger.
Submarine commander Ken White is forced to suddenly submerge, leaving his captain and another crew member to die outside the sub during WW II. Subsequent years of meaningless navy ground assignments and the animosity of a former sailor, leave White (now a captain) feeling guilty and empty. His life spirals downward and his wife is about to leave him. Suddenly, he is forced into a dangerous rescue situation at the start of the Koren War…. reassigned to the same submarine where all of his problems began.
Nick Condon is a newspaper reporter working in Tokyo who refuses to toe the Japanese line on the expansionist policies of the anti-democratic Imperialist government. When it becomes clear to the authorities that Condon isn't going to cooperate and that he has some valuable information and contacts, they decide to get him in their clutches for some interrogations and then dispose of him
Lloyd Bridges plays a WWII commando leader who leads a group of soldiers on a suicide mission to destroy a Nazi naval stronghold on the French coast.
When a German U-Boat captain is sent on a spying mission to the North of Scotland during World War One, he finds more than he bargained for in his contact, the local schoolmistress.