Frank Borzage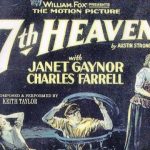 In Paris, in the early years of the twentieth century, lives Chico, a sewer worker with lofty aspirations. One night, Chico saves a young prostitute named Diane from the murderous rage of her tyrannical sister. Despite her lifestyle, Diane is honest and innocent, and when the police arrive to arrest her, Chico spontaneously claims that she is his wife. Forced to maintain this facade or else both face prison sentences, Chico reluctantly allows Diane to live with him — and in the process, love gradually blossoms between them. However, the dark spectre of World War I has begun to descend upon France, and Chico and Diane cannot help but fall under its shadow.
A silent film by Frank Borzage, starring Charles Farrell and Janet Gaynor. In Naples, where prostitutes can pay their rent, Angela is sentenced to a year in the workhouse when she tries to steal(while street-walking) to pay for medicine for her dying mother. She escapes and is hidden by a circus, where she's a natural talent and meets Gino, a painter. When she breaks her ankle in a fall, her career ends. What can she and Gino do? He wants to go to Naples, but the law may still be looking for her, and Gino doesn't know about her past. Starving artist and a beauty with a secret: is there room in this world for them?
"Dakota," a young soldier on a pass in New York City, visits the famed Stage Door Canteen, where famous stars of the theatre and films appear and host a recreational center for servicemen during the war. Dakota meets a pretty young hostess, Eileen, and they enjoy the many entertainers and a growing romance.