George Cukor
Norman Maine, a movie star whose career is on the wane, meets showgirl Esther Blodgett when he drunkenly stumbles into her act one night. A friendship develops, then blossoms into romance before tensions increase as Esther's career takes off while Norman's continues to plummet.
After spending fifteen years in an asylum, Hilary Fairfield escapes from the institution after regaining his sanity. He finds that things at home are different than when he left them. His wife has divorced him and is already planning her next marriage, and his daughter has grown up throughout the years and is planning to marry as well.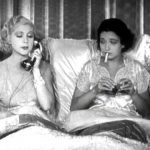 Gold-diggers Kay Francis and Lilyan Tashman meet susceptible lonely businessmen at conventions in this ribald preproduction code story. The millionaires lavish the girls with expensive gifts. Francis falls for poor but virtuous Joel McCrea. Eugene Paulette is a copper king who gives Tashman jewelry. His wife reacts not with jealously but by trying to imitate her rival's style.