W. Lee Wilder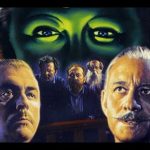 aka The Vicious Circle
In Hungary, a rich baron discovers that there are extensive oil deposits underneath nearby properties owned by villagers. He manages to convince all the property owners to sell to him, except for a few properties owned by Jewish families. Infuriated at their refusal to sell to him, he attempts, with the help of some corrupt local police, to have the men charged with the murder of a local woman, who in reality actually committed suicide..
An alien being with the power of invisibility lands in Santa Monica. Killing two people who attacked him due to the menacing appearance of his spacesuit, the creature takes it off while being pursued by government authorities.
Botanist Frank Parrish leads an expedition to the Himalayas to seek out new flora, accompanied by hardboiled news photographer Peter Wells. When their lead guide, Subra, learns his wife has been kidnapped by a Yeti, Parrish disbelieves him, so the sherpas commandeer the expedition at gunpoint and turn it into a search-and-rescue party. To Parrish's surprise, they discover a whole family of Yetis in a cave, and are able to subdue the male and carry it back to civilization, to ship to the USA for study. Subra is forgiven his acts because he was right after all. Wells, meanwhile, phones in the story and Parrish finds his discovery – shipped upright in a meat cooler to maintain its natural environment – detained in the US because Wells' story refers to it as a snowMAN, and a decision must be made whether this is a customs or immigration matter. During this bureaucratic snafu, the creature escapes its containers and disappears into Los Angeles, mysteriously appearing in different parts of .. .