William Castle
A wealthy woman is terrorized by recurring dreams regarding her jealous, blind husband who supposedly burned to death in a recent fire. She tries to convince her attorney that the nightmares are real.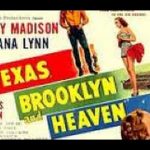 Eddie Tayloe's grandfather leaves him six thousand dollars and the money belt it came in, freeing Tayloe to leave his dull newspaper job in Texas and move to New York to become a playwright. Along the way, his car breaks down and a girl walking along the highway asks for a lift. It turns out she's a nice girl, named Perry, running away from a job at a gasoline station. Soon they're off to New York together, but part ways once they arrive. Time passes and Eddie is failing to sell his play; Perry is failing to find a job. Odd circumstances, involving an old pickpocket named Mandy, bring them together again. Three starchy sisters renting a room, a bartender named Mike, and a sleepy old immigrant running a mechanical menagerie all play parts in this romantic comedy.
Eccentric millionaire Fredrick Loren and his 4th wife, Annabelle, have invited 5 people to the house on Haunted Hill for a "haunted House" party. Whoever will stay in the house for one night will earn ten thousand dollars each. As the night progresses, all the guests are trapped inside the house with ghosts, murderers, and other terrors.
Dodge City Sheriff Bat Masterson is out to prove that a group of cattlemen have framed Merrick for murder because he negotiated a treaty granting the Kiowas a reserve in the grass country that the cattlemen wanted for their own grazing land. Knowing that the tribes will wage war again if Merrick is executed, Masterson begins a search for Clay Bennett who testified he saw the murder. Joining him in the hunt is Marshal Wyatt Earp and Doc Holliday, both for different purposes. Although Masterson and Holliday have a long standing feud, the latter is persuaded by Merrick's daughter Amy to help.
An innocent dentist is murdered, the only apparent motive to steal a set of dental x-rays. To the police it looks like an accident, so Jane Adams, loyal dental assistant, consults massive private eye Brad Runyan (of radio fame); he's skeptical until he finds that Jane is being followed. The mystery deepens as Brad's search for missing dental patient Roy Clark reveals many ramifications and loose ends…