William Nigh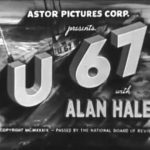 (aka U67) The Sea Ghost is a 1931 American Pre-Code film directed by William Nigh and starring Alan Hale, Clarence Wilson, Claud Allister and Laura La Plante. The film was re-titled U 67 for its American reissue, stating in the foreword that "some of the scenes in this film show authentic exploits of the U 67 under actual wartime conditions".
Greg Winters, a disgraced World War 1 naval officer, is the Captain of a salvage-ship in New Orleans in 1925. He crosses paths with Evelyn Inchcape, a man-hating owner of a cabaret and the heir to a fortune, and Karl Ludwig, a former German submarine commander, searching for salvation on the docks of New Orleans.
Starring Boris Karloff, Grant Withers, Marjorie Reynolds, Charles Trowbridge, Frank Puglia, Craig Reynolds, Lita Chevret, Harry Strang and Richard Loo. When Captain Street's best friend Dan Grady is murdered, Street enlists the help of Chinese detective James Lee Wong. Mr. Wong uncovers a smuggling ring on the waterfront of San Francisco and unmasks the killer, though not until several more murders occur.
A cabal of American industrialists, all fifth-columnists intent on sabotaging the war effort, are methodically murdered by the malevolent Monsieur Colomb. It is only until detective Dick Martin is assigned to the case that everyone's true motives and identities are revealed.